Posted on : 10-11-2010 | By :
Adam Piotrowski

| In : Books, Change
2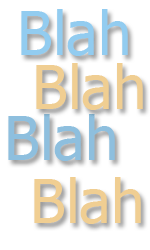 There's something about the act of writing something down that just makes it more real, if that makes sense. We can tell ourselves, or others for that matter, that we're going to do something, but there's something much different about just saying it and actually writing it down.
The key here is the commitment level with each action – speaking vs. writing. If you've every read up on human behavior, you may have come across Professor Robert Cialdini's thoughts on the science of persuasion. Essentially, Cialdini's research suggests that there actually 6 basic laws of winning friends and influencing people. I'm not going to get into all his ideas in this post as they merit much more attention than that, but am going to touch on one key one here: commitment.
This has to do with the principle of consistency and how people are inherently hard-wired to align with their clear commitments. His research shows that once an individual takes a stand or goes on record for something, he or she prefers to stick with that commitment. I think the key here is going on record. That's actually part of the psychological science behind petitions. Asking someone to sign a petition in support of an upcoming issue, for instance, is a small request. And the petition itself doesn't decide if the issue goes through or now. But research shows that when it comes time to vote, those who signed the petition were more likely be consistent with their previous commitment in line with the petition. So if this works for influencing others, can it work on ourselves?
Maybe that's why writing things down is different than just saying you're going to do something. Writing it down is going "on record" in making the commitment. So that's part of the "science" behind the creation of this site. It's me going on public record things I aim to accomplish. There will be plenty to come, and I'll share that here, but here is commitment #1:
- Stop procrastinating on getting this blog (ironically enough about follow-through) up and running and commit to a consistent post every monday.
Baby steps, but have to start somewhere and I know that fitting this in between my work schedule and our recent move from LA to Nashville. So I'm going in line with Cialdini's arguments in the belief that consistency and commitment will work in my favor.
How about you? Any tricks for getting things done you care to share?