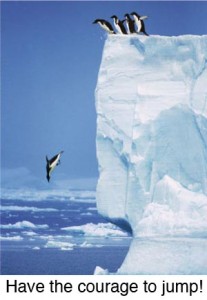 One of the main reasons I decided to create this blog was because I wanted to share my thoughts, struggles, losses and victories on following through with others. I could have just made notes for myself and given myself morning pep talks in front of the mirror, but sometimes the sign of a smart individual is admitting that you may have a better chance of accomplishing something with a group than on your own. So I decided to create a blog and not just keep a journal. The idea is to create a community and essential to that is sharing other great resources.
Travis Robertson is someone I met my first week in Nashville. Travis definitely embodies the visionary thinking and drive that I think anyone who hopes to follow-through on something big must have. Recently, Travis started a blog called Don't Settle. In his words:
"Too many people settle for average, mediocre lives. They make a choice that building a life of significance – a life that matters is too difficult. So they go through life working for the weekends and vacations. They're unhappy, unhealthy, bored, burnt out, frustrated, tired, and lost. This isn't how life is supposed to feel!"
I think we can all relate to that feeling. We've all been there, stuck in a point in our lives when we're just going through the motions.  So what is it then that paralyzes us from breaking out of that monotony? True, in the tough job climate we've seen the past couple years giving up the security of a comfortable situation may be an intimidating proposition. Or is that just another excuse to put something your passionate about and could truly excel at on the backburner once again? I guess what I'm saying is, if now isn't a good time to take a chance, then when is?
I've taken some big chances in my life and it was scary each time. Yet, each time I did take a leap of faith, whether or not it worked out as planned, it always seemed to spring me into something better than before. Funny enough, as I write this I now realize that the cycle naturally wants to start over in that whenever you reach a point again where you need to take another jump it's as if your logic forgets that it was a good decision before and so many forces within you (and maybe around you) try to keep you from taking that next jump. Are we starting to see a pattern here?
I'm definitely at one of these points again in my own life. I've had a few big ideas that have sat on the backburner for far too long. Can't say exactly why because I am genuinely passionate about them. It would be easy to say I was just too busy to get at them before, but I don't think lack of time is ever really a valid excuse. If it matters enough to you, you'll find the time to make it happen.
So here I am, telling myself again to go ahead and take a jump, to not settle. Maybe it works, maybe it doesn't. But at least I'll know. I think that all of us already have too many "what ifs" in our lives and to me, those are way harder to live with than trying something that doesn't work out.