Posted on : 11-17-2010 | By :
Adam Piotrowski

| In : Change, Fitness
2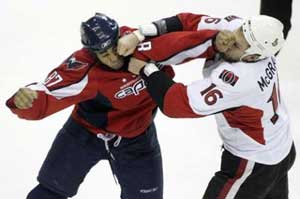 A good friend of mine has a saying:

"Everyday you're either
winning or you're losing"
For the record, he is the embodiment of what it means to be a follow-througher and an all-around bad-ass. He went to the Naval Academy after which he decided he wanted to be a runner even though he had never been a competitive runner. In fact, of my competitive memories of him growing up (he was the first friend I ever remember making), where he perhaps most excelled was as a hockey goalie – not exactly a position you'd probably equate with a future runner.
Well, it didn't take him long to become the top runner on the marine core marathon team. That wasn't enough so he went on to do triathlons where he would routinely finish in the top for his age group in even the biggest races. If that wasn't enough he became an ultramarathoner, running 100 mile races at altitude!
Needless to say, he has a level of follow-through and determination that not many are able to maintain. Stepping back and taking a look at some of what he's accomplished to this point he's done some pretty incredible things.
I think his philosophy of every day being a battle has played a great role in his success. For me it doesn't mean the same as the old saying of "taking it one day at a time". "Taking it one day at a time" to me gives a sense more of surviving each day whereas "everyday you're either winning or your losing" strikes me as a much more proactive approach to life. It's easy to sit back and say that today is just one day in the grand scheme of our life so what's the big deal. But Blake doesn't work that way. He strongly believes that each day the decisions you make either move you closer to your goals, or put you further from reaching them. I've heard him say it, but I'll be honest and say I haven't genuinely lived that way.
For example, this post was supposed to go up on Monday. It's now Wednesday. That may seem small, but to me it means that for two days I was losing in this aspect of my life. Rather than moving forward I was moving back.
The actions we take contribute to the patterns of our life and if, as the saying goes, we win most of our days by making positive decisions and following-through well then, that sets us up for a pretty winning life. Like any battle, you can't win 'em all so we'll have our losing days. The goal though is to put more marks in the W column.
So how did you do today?