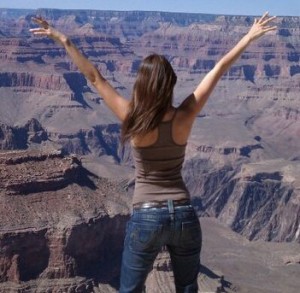 There are a lot of great things about Los Angeles.
For starters it's the perfect day, everyday. Growing up in MN I could never envision what it must be like to live in a place with palm trees. Now I know, and that part of it is great. Secondly, it's the land that created my better half. That in and of itself makes it a great place.
But, like any place LA has it's not-so-great aspects as well. One that immediately comes to mind: my 20 mile, 2 hour commute to work.  For me what this meant was that 3-4 hours of everyday was pretty much time lost. If you're lucky enough to sleep 6-8 hours that's nearly 20-25% of everyday lost to the 101 and the 405 freeways. But it was what it was. It was a good job and there were bills and a mortgage to pay.
One thing that drive did give me was plenty of time to think. And with all that time, it's hard not to question if it was really worth it. It just so happens that my wife was also wondering if all the hustle and bustle was worth it. We had a great house on a great street in sunny LA, but it never felt like there was time to enjoy it. But the routine was there. She had her dreams of new show ideas and working in an industry she was really passionate about while I had my dreams of creating innovative new ideas to blend music and digital media. But in our LA life, those always seemed to always be forced to the backburner.
We always say tomorrow we'll do this, or when I have time I'll do that. But like so many of us, we found ourselves waiting for the right moment. But what if the right moment doesn't come? Do real follow-throughers wait for the right moment, or do they make their own moments?
I guess I can't really even put my finger on the exact cause, but one day not to long ago my wife just came to me and said:
"What do you think about moving to Nashville?"
Now that may not seem that dramatic, but for two people who'd never even been to Nashville and had a wealth of responsibilities, family and friends in LA it sure seemed like a big deal to us. We actually made the decision before even visiting and announced it to my mother-in-law for what was probably a not-so-great mother's day gift that we were moving and taking her only daughter away.
And in 3 short months we made it happen.
I'm not sure why we told her parent's at their house that day because I don't even remember us being certain. We certainly hadn't talked about telling them because we didn't even had a plan yet. But we did and I guess a la Cialdini we went on public record.
It was a leap of faith and who knows what's going to happen (we've only been in Nashvegas a few weeks), but we definitely followed-through in this instance.