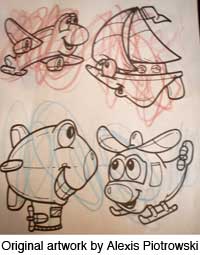 I have three beautiful goddaughters who are wise beyond their 4 years.
Ok, so it is possible that I may be a tad biased, but whenever I get to spend time with them they inevitably do something that reminds me that their generation will someday be smarter than ours.
Over Thanksgiving I was fortunate enough to spend some time with one of them who I don't get to see very often. I was standing in the kitchen as my wife was sitting with her doing some coloring.   As my wife meticulously colored in the drawings of the Tinkerbell scene on her page, Alexis went at her page with broad strokes of random colors at will.
My wife paused as we both watched her. As an adult, our natural tendency would be to "teach" her to take her time and fill in the drawings with the colors that made sense – yellow for the hair, green for the grass, etc. As if she sensed our disapproving glances she paused, looked up at us and said:
"It's funner to color outside the lines."
I couldn't help but feel proud when she said that.  What a wise statement from a four-year old.  I hope she can keep that mentality as she goes through life, but sadly there will be countless societal forces trying to beat it into her that it's not ok to color outside the lines.
I had a fantastic vocal coach once who made a similar point that I'm sure you never thought of, but will make a lot of sense once you hear it.
She would always say that we're all born with loud voices.  While we may not necessarily all be singers, we're all born with lungs capable of belting for hours on end.  I also spent Thanksgiving with my two newest nieces (Alexis' little twin sisters) and let me state for the record that these 3 month olds had no problem pushing their vocal chords all day and all night. No warm-up or cool down needed. My voice hurt just thinking about it.
But then it begins.  Everyone around us starts conditioning us to quiet down:
- "Shhh…"
- "Hush, not so loud"
- "Quiet please"
- "Inside voices children"
Then before we know it, we can't sing out loud anymore.  We need to actually find a vocal coach to help us relearn to breathe properly so that we can use our voices as freely as we did when we were young.
I see the same things holding our ideas back.  We're all visionaries when we're little, but then we grow up with so many different forces telling us what we can't do and what we should do that our instincts can shift from originality towards status quo.
It's pretty tough to do something big, something unique, something innovative with that mindset so here's to taking a lesson from my goddaughter and trying to relearn how to color outside the lines.